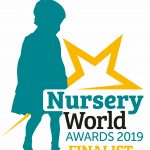 Alyth Kindergarten was established in 1970 to provide pre-school progressive Jewish education for Jewish children.  The kindergarten's outstanding reputation has grown over the years and continues to maintain its unique position in the area for its child-centred and caring approach which is why we cap our K1 and K2 group sizes.

The Kindergarten was awarded 'Outstanding' in their 2015 Ofsted inspection, click here to see the report.
Alyth Kindergarten is an important part of our Early Years provision and has strong links to the other areas of Alyth life including Galim, Alyth's Toddler Group, and family services.
Opening Hours
The kindergarten is open Monday to Friday from 09:00-12:00 for our 2 to 3 year olds and 09:00-12:15 for our 3 to 4 year olds.  We provide extended and excellent afternoon themed sessions on Monday, Tuesday, Wednesday and Thursday until 14:30 for K1 and K2.
A breakfast club is available 8.00 – 9.00 am (offering an additional hour to those parents who need it).
Click here for the 2019-20 term dates