Tor nominated for Nursery Manager of the Year
Victoria Alter (aka Tor), The Head Teacher of Alyth Kindergarten was shortlisted as one of the six nominees for "Nursery Manager of the Year in the UK". The top accolade in the early years sector.
On Saturday 28 October 2019, a glittering ceremony for the Nursery World awards 2019 took place at the Brewery in Chiswell Street.  The awards highlight the very best practice dedicated to professionals who do so much every day to support young children and their families throughout the early stages of education, judged by experts in the industry.
Nursery World opened the ceremony by saying "Everyone on our shortlist should feel that they are a winner tonight, having made it this far from hundreds of high-quality entries".
Tor said, "I love knowing that I am contributing towards improving children's life-long outcomes as well giving the children the very best start in life ready for when they move on to school".
Lara Thomas who is Tor's deputy, was one of the people who nominated her for the award. "I call her the 'Duracell Bunny' as she has so much energy and enthusiasm and is an inspirational leader".
Parents and staff members were also part of the nomination process "Her positivity and enthusiasm are infectious, which spirals down to all around.  The ethos she has created provides a warm, loving and nurturing environment for all.  Her management approach is firm but fair, honest and open and staff respect and admire her hard work and commitment to the team and to her role as Head Teacher".
Tor added "it's great to have the recognition for what we all do".  I would like to thank all my amazing staff team who work so hard to make Alyth Kindergarten such a special place".
Alyth Kindergarten was rated as "Outstanding by Ofsted in 2015/2016.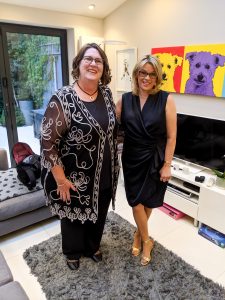 Left: Lara Thomas (Deputy Head)
Right:  Victoria Alter (Head Teacher)